Home

/

Research News

/

Opposite-sex attraction in male mice requires testosterone dependent regulation of adult olfactory bulb neurogenesis
24/01/2017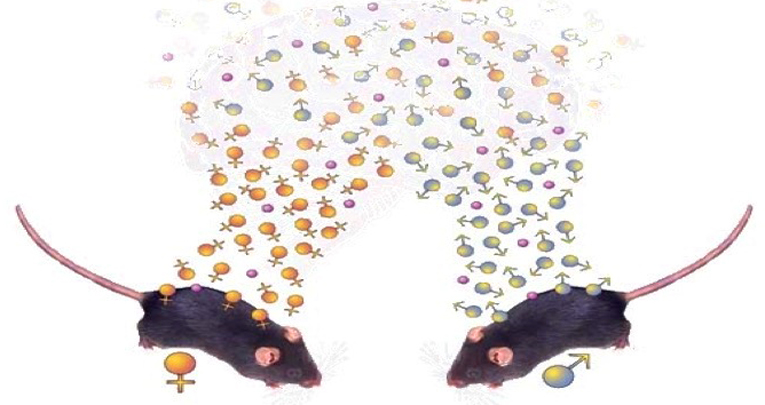 Scientific Reports, October 2016
Schellino R 1, 2 , Trova S 1, 2 , Cimino I 3 , Farinetti A 2, 4 , Jongbloets BC 5 , Pasterkamp RJ 5 , Panzica G 2, 4, 6 , Giacobini P 3, 7 , De Marchis S 1, 2, 6 , Peretto P 1, 2, 6
Opposite-sex attraction in most mammals depends on the fine-tuned integration of pheromonal stimuli with gonadal hormones in the brain circuits underlying sexual behaviour. Neural activity in these circuits is regulated by sensory processing in the accessory olfactory bulb (AOB), the first central station of the vomeronasal system.
Recent evidence indicates adult neurogenesis in the AOB is involved in sex behaviour; however, the mechanisms underlying this function are unknown. By using Semaphorin 7A knockout (Sema7A ko) mice, which show a reduced number of gonadotropin-releasing-hormone neurons, small testicles and subfertility, and wild-type males castrated during adulthood, we demonstrate that the level of circulating testosterone regulates the sex-specific control of AOB neurogenesis and the vomeronasal system activation, which influences opposite-sex cue preference/attraction in mice.
Overall, these data highlight adult neurogenesis as a hub for the integration of pheromonal and hormonal cues that control sex-specific responses in brain circuits.
1 Department of Life Sciences and Systems Biology, University of Turin, Turin I-10123, Italy
2 NICO–Neuroscience Institute Cavalieri Ottolenghi, University of Turin, Turin I-10125, Italy
3 Inserm, UMR-S 1172, Laboratory of Development and Plasticity of the Neuroendocrine Brain, F-59000 Lille, France
4 Department of Neuroscience, University of Turin, Turin I-10125, Italy
5 Department of Translational Neuroscience, Brain Center Rudolf Magnus, University Medical Center Utrecht, 3584 CG11 Utrecht, The Netherlands
6 Neuroscience Institute of Turin (NIT), University of Turin, Turin I-10125, Italy
7 Univ. Lille, UMR-S 1172-JPArc-Centre de Recherche Jean-Pierre AUBERT Neurosciences et Cancer, F-59000 Lille, France
Events & Meetings
Our young researchers present their work to collegues. From January to December, every two weeks, on friday at 2:00 pm
Seminars Room, NICO
University of Turin, Italy
The Workshop is aimed at PhD students and young Postdocs with the goal to promote a thorough understanding of the functions of glial cells in health and disease. The program includes lectures on the newest conceptual advancements and methodological approaches in the study of glial cells in synaptic functions, development and CNS diseases.