Home

/

Research News

/

HD: human striatal progenitors transplanted in the lesioned striatum are able to survive long-term
04/08/2023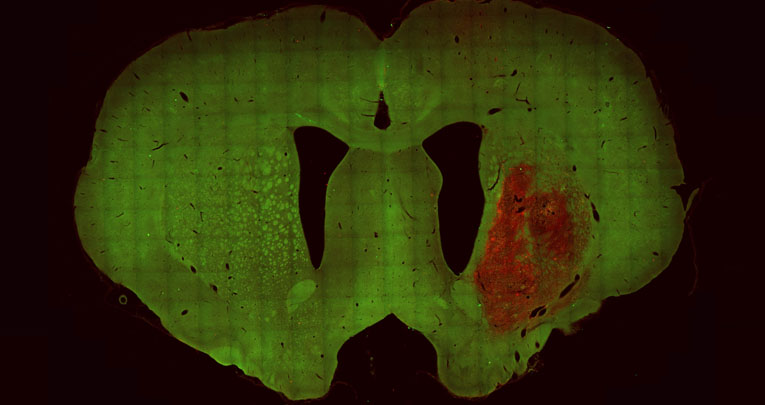 Stem Cell Research & Therapy , 28 July 2023
hESC-derived striatal progenitors grafted into a Huntington's disease rat model support long-term functional motor recovery by differentiating, self-organizing and connecting into the lesioned striatum.
Roberta Schellino 1,2,6, *, Dario Besusso 3,4,6 , Roberta Parolisi 1,2 , Gabriela B. Gómez-González 1,2 , Sveva Dallere 1,2 , Linda Scaramuzza 3,4 , Marta Ribodino 1,2 , Ilaria Campus 3,4 , Paola Conforti 3,4 , Malin Parmar 5 , Marina Boido 1,2 , Elena Cattaneo 3,4,# , Annalisa Buffo 1,2, * ,#
Research Groups NICO: Physiopathology of neural stem cells and Brain development and disease
***
Huntington's disease (HD) is a neurodegenerative motor and cognitive disorder caused by significant loss of neurons in the striatum. Currently, there are no effective treatments able to halt neurodegeneration and consequently disease progression. In a study recently published in Stem Cell Research & Therapy , our researchers from NICO, led by Professor Annalisa Buffo , in collaboration with Professor Elena Cattaneo's laboratory at the Università Statale of Milan , highlight how the transplantation of striatal neurons derived from human embryonic stem cells could have therapeutic role for HD.
The NICO researchers, starting from the first author, on the right: Roberta Schellino, Marina Boido, Roberta Parolisi, Annalisa Buffo, Gabriela B. Gómez-González, Marta Ribodino and Sveva Dallere.
The study - conducted on a rat model of the disease - demonstrated that human striatal progenitors transplanted in the lesioned striatum are able to survive long-term after transplantation (at least 6 months) and develop morphological and neurochemical characteristics similar to mature human striatal neurons.
Using connectivity tracing techniques, first author Dr. Roberta Schellino and colleagues observed that, at 6 months, the transplanted cells are able to form local connections with transplanted cells, as well as distant connections with host neurons, indicating an increasing synaptic integration of the transplant over time. Furthermore, through specific behavioral test, the effectiveness of the transplantation in improving complex motor performances, compromised in HD, was demonstrated.
During the study, it was also tested whether exposing HD animals to an enriched environment could enhance the functional integration of the transplant. The results show that environmental enrichment increases the selective differentiation of transplanted cells into striatal phenotype and further promotes connectivity between the graft and the host.
In conclusion, the study supports the long-term therapeutic potential of transplantation of human striatal progenitors derived from stem cells in treating Huntington's disease, and also suggests that environmental enrichment may accelerate maturation and promote integration of transplanted cells.
(A-B''') Human cells (HuNu) transplanted in standard (SE) or enriched (EE) environmental conditions, showing the morphology of striatal neurons, 6 months after transplantation. (C-D) The proportion of human striatal neurons exhibiting a phenotype with high dendritic spine density is higher in enriched environmental conditions (EE). (E-F) Three-dimensional reconstruction of dendrites and spines of some transplanted human striatal neurons. (G) Enriched environment (EE), compared to standard condition (SE), increases the density of spines of transplanted human cells.
******************************
1 Department of Neuroscience Rita Levi-Montalcini, University of Turin, Turin 10126, Italy
2 Neuroscience Institute Cavalieri Ottolenghi, University of Turin, Orbassano, 10043 Italy
3 Department of Biosciences, University of Milan, Milan, 20122 Italy
4 National Institute of Molecular Gen-etics "Romeo ed Enrica Invernizzi", Milan, 20133 Italy
5 Wallenberg Neuroscience Center and Lund Stem Cell Center, Lund University, 22184 Lund, Sweden
6 Co-first authors
#Co-Senior authors
*Corresponding Authors